Brookshire Grocery Co. today announced plans to present $163,000 to local and national charities from proceeds raised during the company's 4th annual FRESH 15 Road Race that took place March 4 at the FRESH by Brookshire's store in Tyler.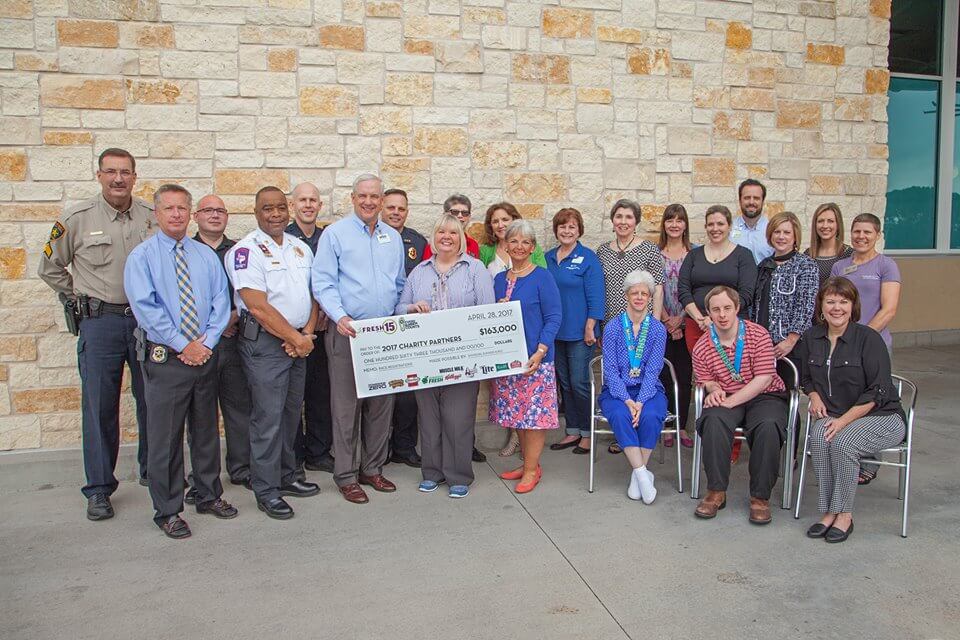 The race's charity program, Every Runner Counts, relays the message that 100 percent of registration proceeds from participants are given back to non-profit organizations. Every Runner Counts supports non-profit groups that provide strength, stability and safety for families in East Texas and surrounding areas.
"We are proud to award FRESH 15 funding to groups that exemplify the strength it takes to support every sense of the term 'family' – passion, hope, dignity, belonging and protection – all of which are vital to building lives that truly make a difference," said Trent Brookshire, executive sponsor for the event. "We are proud to have raised over $500,000 in the past four years for deserving charity partners, and we take great pride in the fact that every single penny from registration goes directly back into our community."
Funds were presented to charity partners on April 28 at FRESH by Brookshire's.
Race proceeds of $163,000 are being dispersed to the following non-profit partners:

Bethesda Health Clinic: A Christ-centered clinic that provides affordable health and dental care to low-income working adults who are uninsured or underinsured.
FitSteps for Life: Renewing hope, improving quality of life, and prolonging survival for cancer patients through the restorative power of exercise.
Breckenridge Village: A caring residential community for adults with mild to moderate intellectual disabilities.
Alzheimer's Alliance of Smith County: Supports and connects families dealing with all forms of dementia with direct services and resources they need to care for loved ones diagnosed with these debilitating diseases. The Alliance emphasizes a variety of brain-healthy initiatives for everyone in order to slow down and reduce the incidence of Alzheimer's and dementias.
Soles4Souls: Everyone deserves a good pair of shoes. Shoes provide health, hope and happiness. This organization provides short-term relief and long-term solutions locally and around the globe. In 10 years, they have distributed 30 million pairs of shoes in 127 countries.
Christian Women's Job Corps: Equips women with job skills and life skills in a Christ-centered environment to find better employment and build a future for their families.
Literacy Council of Tyler: Sees generational impact when they give adults the opportunity to achieve literacy through instruction in basic reading, ESL programs, GED prep, and Career Pathways. This sets them up for success that may not have otherwise been accessible to their families.
Public Safety: Funding from our race goes to providing lifesaving equipment for the men and women who serve as police officers, firefighters, and in our local county agencies. We also hope to equip them with tools for to care for their own health so they can continue to keep our families safe.
Children's Advocacy Center of Smith County: A love for children, passion for justice, and vision for a restored childhood. CACs exist to minimize the trauma children face when they have been victimized by abuse and to provide the resources needed for children and families to begin the healing process.
Children's Village: A children's home that strengthens the community by providing healing and hope for neglected and abuse boys and girls in Northeast Texas.
The 2018 race is set for March 3 and registration will open this summer. To learn more about the event, please visit bgcracing.com.
About BGC: Brookshire Grocery Co. operates 177 stores in three states —
Texas, Louisiana and Arkansas — with three distribution centers.
Known for friendly service, clean stores and strong community support,
BGC has been in operation since 1928.
Our Mission: Making our communities better through our people,
our products, our stores and our service.
www.brookshires.com | www.super1foods.com
www.freshbybrookshires.com | www.spring-market.com